by Larry Jordan
In today's world of digital media, dealing with multiple codecs, frame sizes, even frame rates is a sad fact of life. While our editing software can handle all these options, it is often far better to standardize your media into a single format prior to editing. Edit Ready is a utility designed exactly for this purpose.
NOTE: With Apple discontinuing legacy 32-bit codecs in the next version of the macOS operating system, Edit Ready provides a fast, yet comprehensive way to convert older media and preserve your assets.
EXECUTIVE SUMMARY
Edit Ready is published by divergent media, an independent software company focused on providing flexible tools for monitoring, quality assurance, and acquisition for the video production industry.
Edit Ready supports single or batch transcoding of media files into common formats for editing in Avid, Adobe or Apple software. It also supports watermarking, timecode burn-in, image scaling, LUT assignments and frame rate adjustments to support extreme slow motion.
Key new features in Edit Ready 2.5 are support for transcoding only a portion of a clip (which saves storage space) and support for the new Blackmagic RAW video codec.
The software has a very nicely written 35-page manual which covers all operations in an accessible manner.
Developer: divergent media
Website: www.divergentmedia.com
MSRP: $49.99 (US)
Free trial is available
INSTALLATION
The software is purchased directly from divergent media's website. Installation is straight-forward using a Mac standard installer that you've used dozens of time. Aside from the time to download, installation takes less than five minutes. The program is stored in the Applications folder of your Mac.
BASIC OPERATION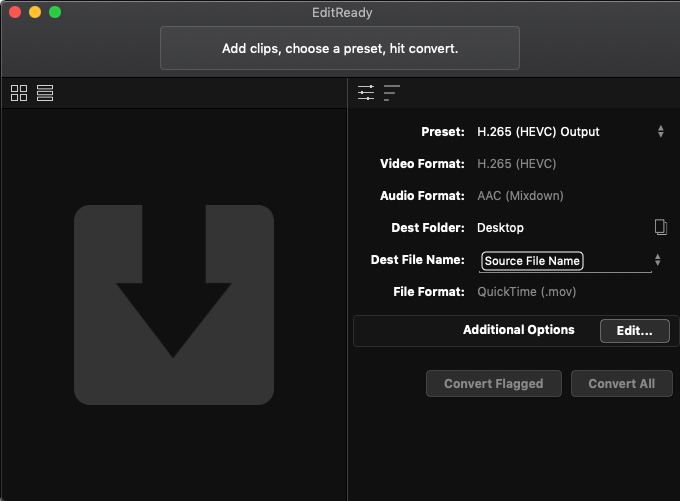 Here's the basic interface. Um, you'll never guess where to drag a clip, or group of clips, that you want to transcode.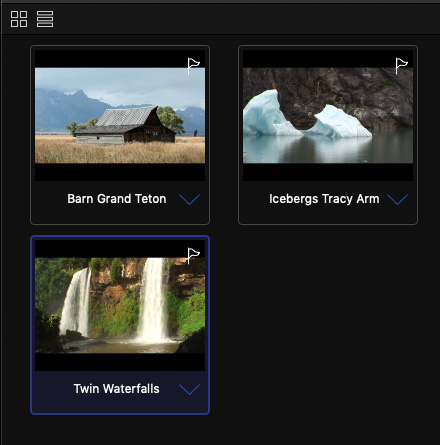 Oh… you guessed. (You could also type Cmd-O, but that's pretty boring.)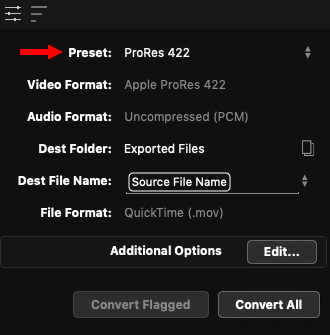 The panel on the right contains settings for how you want to convert (transcode) your media.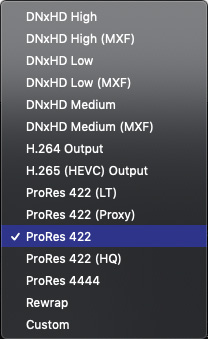 At the top are a collection of presets that allow you to quickly apply settings to all selected clips.
NOTE: You can either batch convert all the clips you imported to this one preset, or flag some clips as favorites and just transcode those. In all cases, you are transcoding clips into the single, selected preset.
As you would expect, you can select a destination folder, including one stored on a server which I've done here, and apply a file naming template to all the clips. This allows you to standardize names as well as formats.
When you are ready to convert, click Convert All, or Convert Flagged if you are just converting favorites.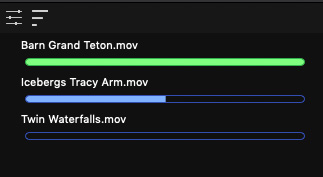 The conversion process is indicated by these three bars:
Green. Transcode is complete.
Partially-filled blue. Transcode is under way
Empty blue. Transcode is waiting to start

When transcoding is complete, the system notifies you.
NOTE: It would be helpful if there was a way to dismiss this notification once it appears. However, like a young puppy, it just hangs around forever.

If there's a naming conflict, the system will notify you, as well.
Read more over at LarryJordan.com, including how Edit Share handles Metadata, Blackmagic Raw support, and a feature called "clip trimming," which enables Edit Share to encode only portion of a clip. Plus, other "deeper features," which Larry includes in his overall impressions of a focused, flexible, capable program.