by Larry Jordan
For the last six weeks, I've been working with a new media compression app called ff-Works. It is tricky to install, difficult to use and the help files are written by programmers for programmers. But, oh, my! The image quality is amazing, the file sizes are tiny, and the flexibility and control this program provides are second to none.
I now do almost all my compression in this program. If you want to improve the look of your final output, keep reading.
EXECUTIVE SUMMARY
ff-Works is a front-end to ffMPEG, a highly-regarded, open-source compression engine that is normally used by programmers to integrate into their software.
By itself, ff-Works allows in-depth technical analysis of media files. However, when combined with ffMPEG, which is developed by a separate organization, it is a powerful media compression tool.
Installation is cumbersome, there are only two video tutorials on the program that I've been able to find, help files are essentially non-existent and the user interface is overwhelming. But… like all powerful tools, if you invest the time to learn how to use it, you are rewarded with results you can't get from Adobe Media Encoder or Apple Compressor.
ff-Works is a flexible, powerful and comprehensive software compression tool for power users who demand outstanding quality and are willing to spend the time to learn how to use it.
Software: ff-Works
Developer: OSBytes
Website: www.ffworks.net
Price: 18.99 Euros (about $22 US)
An 8-day free trial is available
NOTE: ffMPEG is a separate program and required for media compression. It is available for free. See the Installation section, below.
INSTALLATION
First, visit the ffWorks website and download the free trial to ff-Works. Then, download ffMPEG. (Once you get comfortable using it, you can make a more informed purchase decision.)

ffMPEG is a free, open-source video compression program, designed for programmers, first developed by Fabrice Bellard, the originator of the FFmpeg project. It now has developers around the world contributing to the software.
ffMPEG download site: www.ffmpeg.org/download.html
As major updates occur every three months, with minor updates weekly, my recommendation is to download the latest static build, as a DMG file. This simplifies Mac installation.
Once you have downloaded both files, watch this tutorial on how to install ffMPEG.
The process is simple, but does take a few steps. The hardest part is figuring out which version of ffMPEG to download. Remember, download a DMG of a static binary compiled for your system: macOS, Windows or Linux.
INTERFACE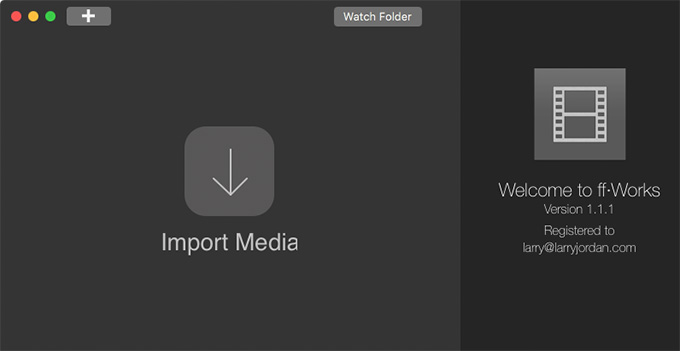 When you first start ff-Works, it looks like this. Obviously, the first thing we need to do is import a file.


(Click to see a larger image.)
When we do, the interface gets much more interesting. The light gray band represents the video(s) you imported.
NOTE: Images in this tutorial are courtesy of Mark Jones, MTC/Caltrans — www.youtube.com/user/news4jones

The bar across the top allows you to (from left to right):
Add new media file(s)
Remove imported media files
Start compression (right-arrow)
Stop compression
Create image sequences from movies
Create movies from image sequences
Of these buttons, the only one I really use is the the right arrow, which starts compression.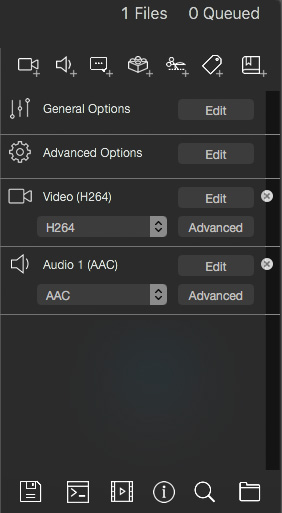 On the right are all the compression settings, grouped by function. I'll get back to these in a minute.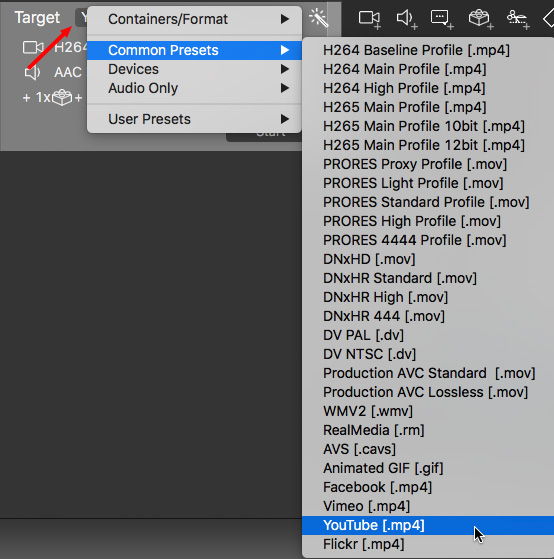 At the top right of each imported media file is the Target popup menu. These list presets in five categories:
Containers/Format. For example, MP4 or QuickTime
Common presets. These include, at the bottom, the most popular social media outlets
Audio only. This allows you to extract and/or compress audio-only formats
User Presets. This allows you to save custom compression formats
There are more than 70 presets to choose from. Here are my suggestions to get you started:
If you want to go to social media, use the YouTube setting
If you are compressing H.264, use the High Profile setting
If you are compressing H.265 (HEVC) use the Main Profile, 10-bit setting
If you are creating ProRes files, use the ProRes Standard Profile setting
IMAGE QUALITY
While my tests are not exhaustive, based on my experience with Apple Compressor and Adobe Media Encoder, as well as a variety of other video compression apps, I feel very comfortable in saying that the image quality is equal to, or better than any other compression software I've worked with, while file sizes are consistently smaller.
You can read the rest of Larry's review at LarryJordan.com.
PROGRAM NOTE: Larry will also be doing a free webinar this Wednesday at 9am and Noon PT, taking users through the app step by step. If you are interested in making your videos look as good as they can, this session will be worth watching. You can use ff-Works regardless of what software you use for video or audio editing. Registration to our live events is always free. Sign-up here.
SaveSave