By Larry Jordan
Final Cut Pro X makes working with multichannel audio easy – but, the process isn't always intuitive.
Multichannel audio is a single audio clip containing multiple channels (or tracks) where each actor is recorded on their own channel. Dual-channel mono is the most common form of multi-channel audio, however, depending upon the audio gear you are using on set, you can stuff 4, 8, even 24 audio channels into a single audio file.
Whether you are working in Final Cut with 2 or 24 channels, the process is the same.
NOTE: Because I don't have an audio clip with more than two separate channels of dialog, I'm using a surround music clip as my example. While the waveforms will look different, the process of working with multichannel audio is the same.
DISPLAY THE AUDIO CHANNELS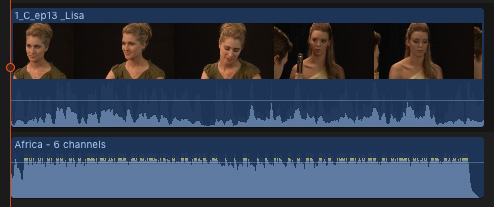 For this example, let's pretend I recorded room audio on the video clip using the camera mic. Then, using separate gear in Final Cut Pro X, I recorded each actor separately on their own channel, to create a multichannel audio clip. I then synced the two clips together using a clapper slate.
NOTE: This technique works exactly the same if the multichannel audio was recorded and attached to the video clip.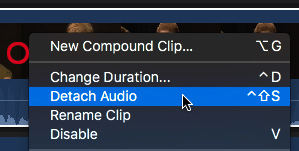 At this point, we no longer need the audio attached to the video clip, so I right-click the video clip, detach the audio and delete it.
You can read the rest of Larry's Final Cut Pro X Tutorial on editing multi channel audio here.
SaveSave