by Larry Jordan
Yesterday, just days prior to the 2019 NAB Show, Adobe released new versions of Premiere Pro CC, After Effects CC, Audition CC and Character Animator, as part of their annual Spring Update. In addition to the new features, Adobe also included a variety of performance updates. Available immediately as a free update to Creative Cloud subscribers, Adobe will also demo this new software at the booth at NAB.
NOTE: The following information was compiled from a variety of Adobe-supplied press materials.
NEW FEATURE SUMMARY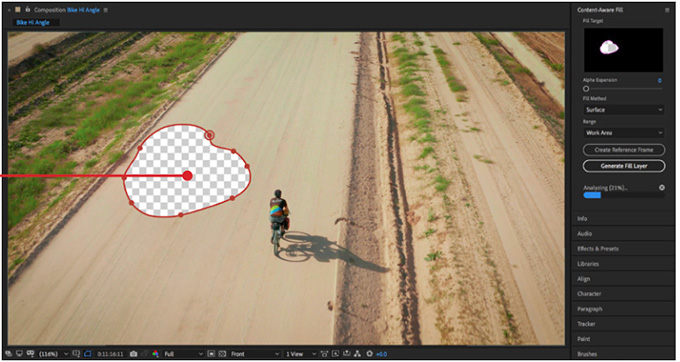 New features include ground-breaking Content-Aware Fill for video, powered by Adobe Sensei, the company's artificial intelligence (AI) and machine learning technology, along with new capabilities for titles and graphics, crafting animations, refining audio mixing, and organizing and preparing project media.
Some of the hundreds of performance improvements include faster Mask Tracking for effects and color workflows, dual GPU optimization and improved hardware acceleration for HEVC and H.264 formats in Premiere Pro. In After Effects, enhancements include GPU-accelerated effects, such as Change Color and Roughen Edges.
Premiere also now supports dual GPUs for faster rendering, color grading and exports.
NEW FEATURES IN PREMIERE PRO CC
The latest release is focused on improved performance and refining the toolset.
Freeform Project panel.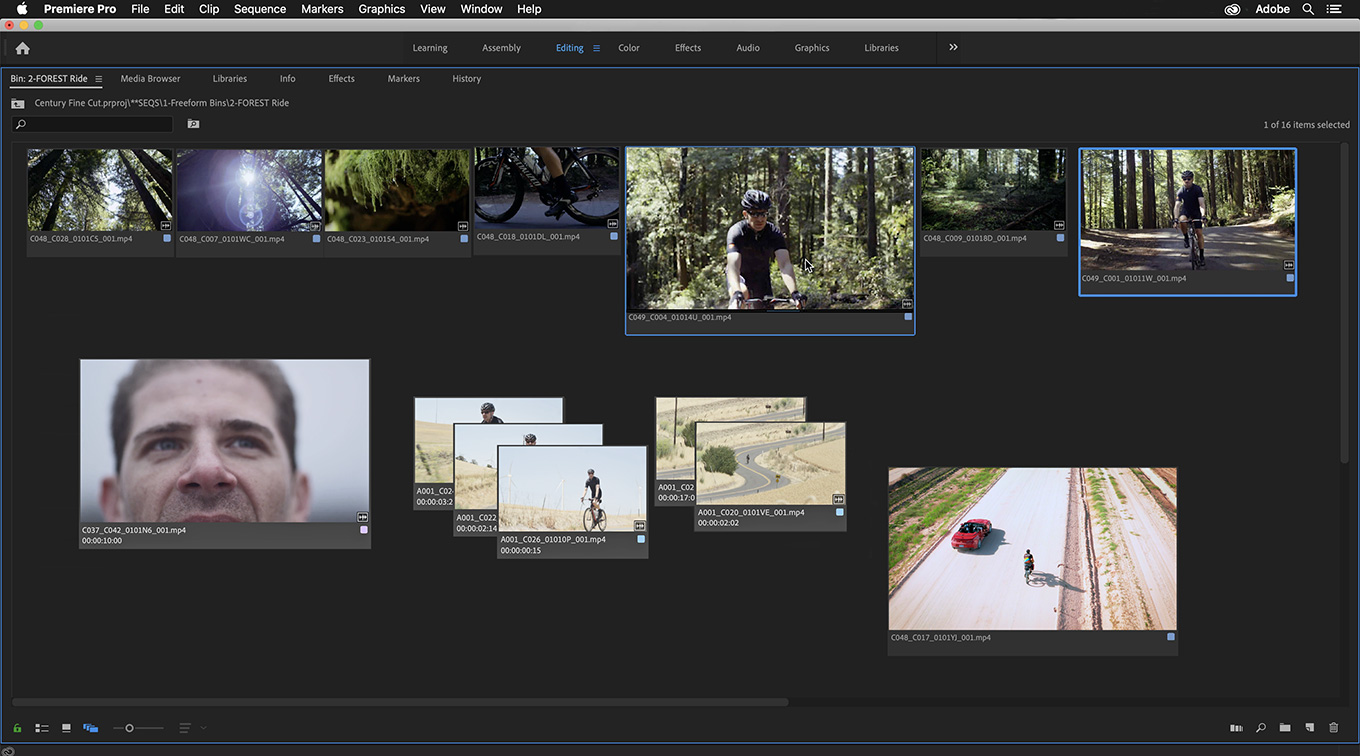 (Click to view larger image.)
With more media and tighter deadlines, editors need tools that help them manage their content without losing sight of their stories. The new Freeform view expands the Project panel into an open canvas for organizing your media and visualizing ideas. Arrange clips, sequences, bins, and other assets into layouts that work with how you think. Color code clips, stack them in groups to save space, make hero shots bigger and build assembly edits you can drag onto the Timeline.
Save different layouts for different tasks inside the same bin and move between layouts as you work. With options to show multiple types of metadata or just clip thumbnails, you control the look of your bin. The Freeform Project panel helps you work efficiently and think creatively.
Rulers and Guides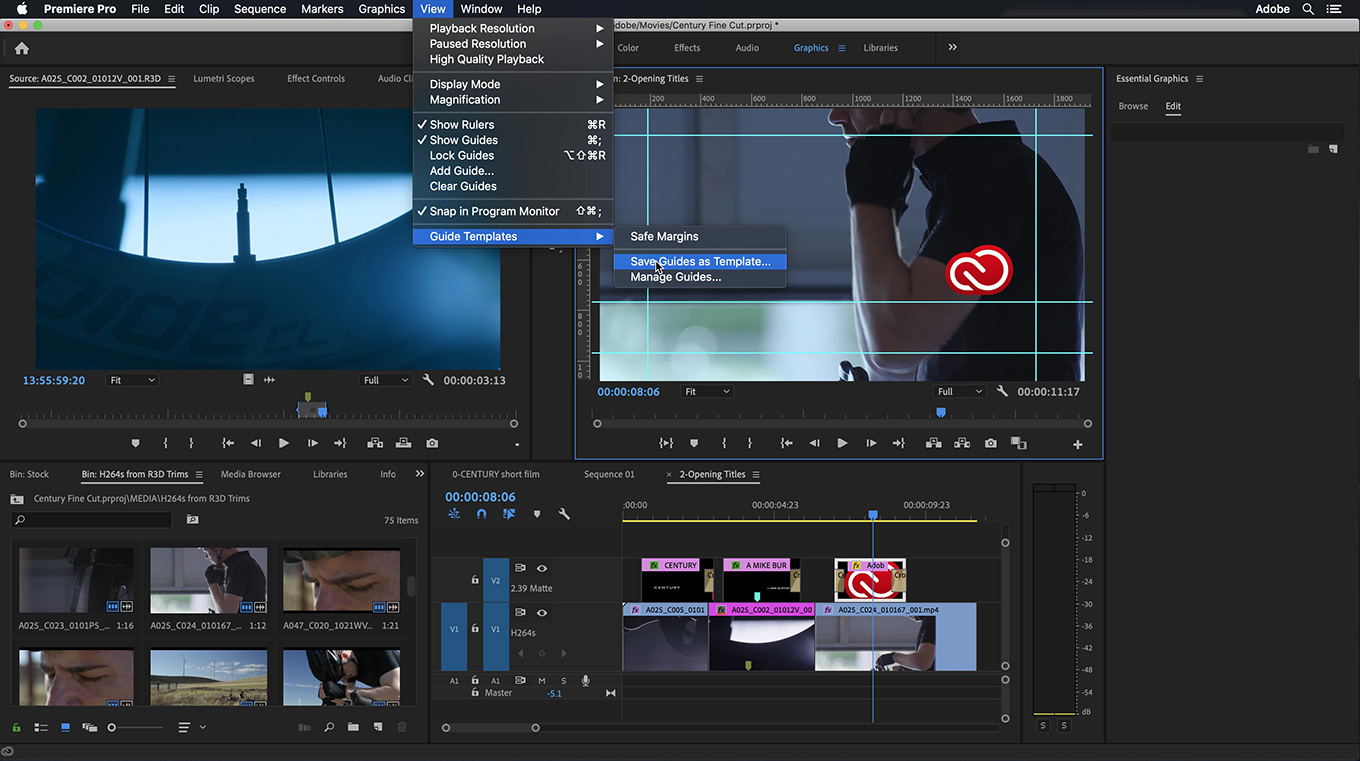 Layout titles and graphics with greater precision and consistency. New Rulers and Guides with improved snapping bring familiar Adobe design tools into your video editing workspace, making it easier to size and align graphics, still images, and video. Color code Guides for added efficiency and share Guide Templates to ensure brand continuity across your content.
(Click to view larger image.)
View menu
Premiere Pro now has a dedicated View menu, consolidating Program Monitor commands and new commands for Guides and accessing or saving Guide Templates.
Improved Text tools
Work more efficiently with text in the Essential Graphics panel with all your titling and graphics tools in one place. Enhance titles with new options for adding multiple strokes and stroke styling to text, as used in Japanese and Korean titling and lower thirds. Make text and titles stand out with background fills or use masks with text for added impact.
Working with fonts is easier, too. Sync free Adobe Fonts automatically, avoiding issues with commonly used missing typefaces; define your own default font as a fallback option. Replace fonts in your whole project with one click to easily update a design.
Graphics enhancements
This release gives you more options for creating graphics and animations in Premiere Pro. Group shapes and apply masks, all from the Essential Graphics panel. Drag and drop multiple Motion Graphics templates into the Essential Graphics panel for added efficiency.
Auto Ducking for Ambience
Ambience add atmosphere and a sense of place to video content. Auto Ducking leverages the power of Adobe Sensei technology to detect speech and automatically adjust the volume of ambient sounds below dialog, music, or sound effects. Adjustments are keyframed so you can fine-tune your mix.
Audio efficiency
Your audio workflow just got better with user-requested improvements that let you re-order audio effects in the effects rack. Copy and paste effects and settings between audio tracks to improve your efficiency while refining your sound.
Faster Mask Tracking and performance improvements

Mask Tracking is significantly faster, even at high resolutions, for more efficient Lumetri Color and effects workflows. Hardware encoding for H.264 and HEVC is improved for smoother playback. Metal acceleration improves playback for RED footage. Better load-balancing for multiple GPUs, including eGPUs, provides faster rendering and exporting, especially with professional codecs, like Apple ProRes, RED, and others. A new System Compatibility Report utility checks for known issues, such as out-of- date graphics drivers to help ensure reliable performance.
NEW FEATURES IN AFTER EFFECTS CC
The latest release adds new features for removing objects from video clips, a better way to create Expressions, and more.
Content-Aware Fill for video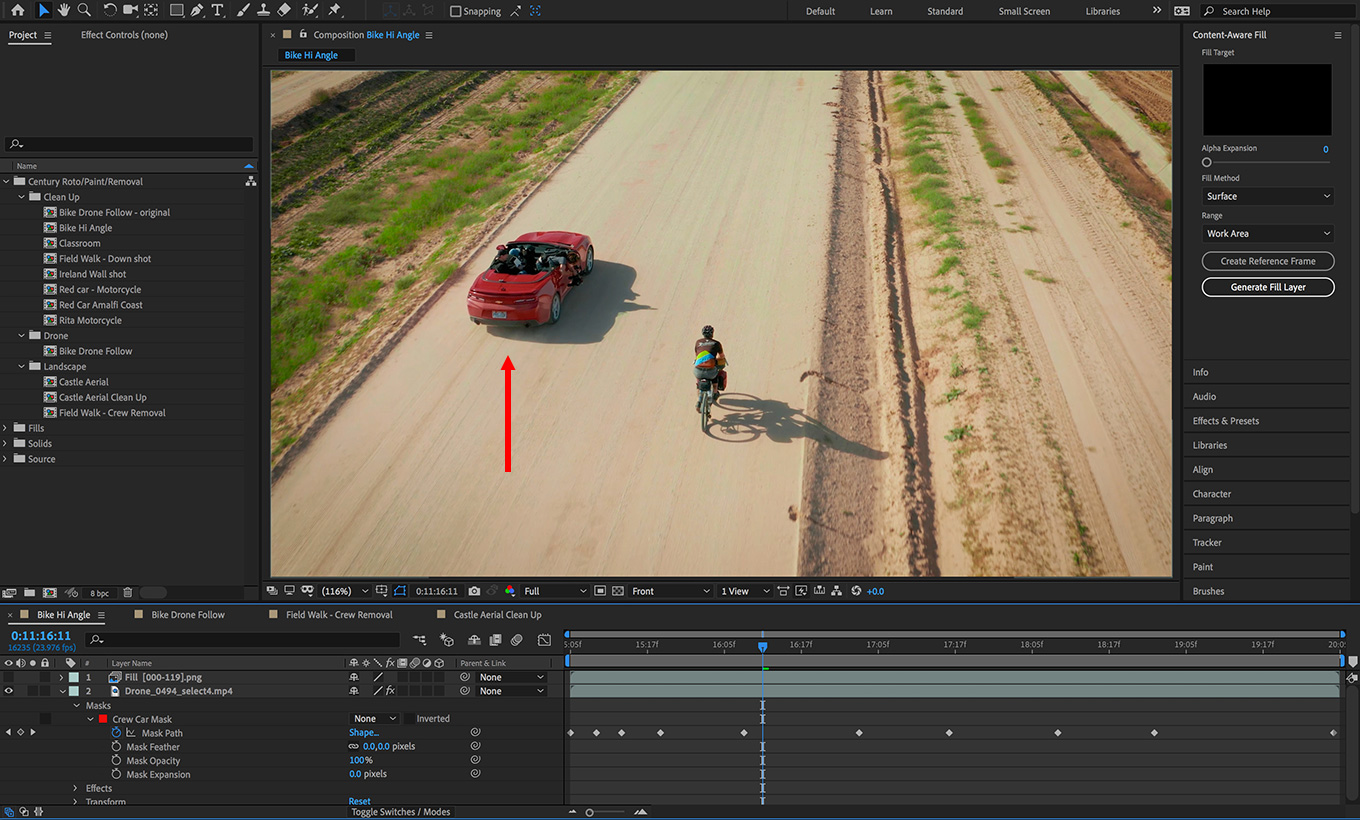 (Click to view larger image.)
With tight production and delivery schedules, the ability to repair or re-purpose a shot can make a big difference. First introduced in Photoshop, Content-Aware Fill is now available to editors and visual effects artists allowing them to remove unwanted elements from video clips, such as production equipment, boom microphones or special effects wires that have inadvertently been included in a shot.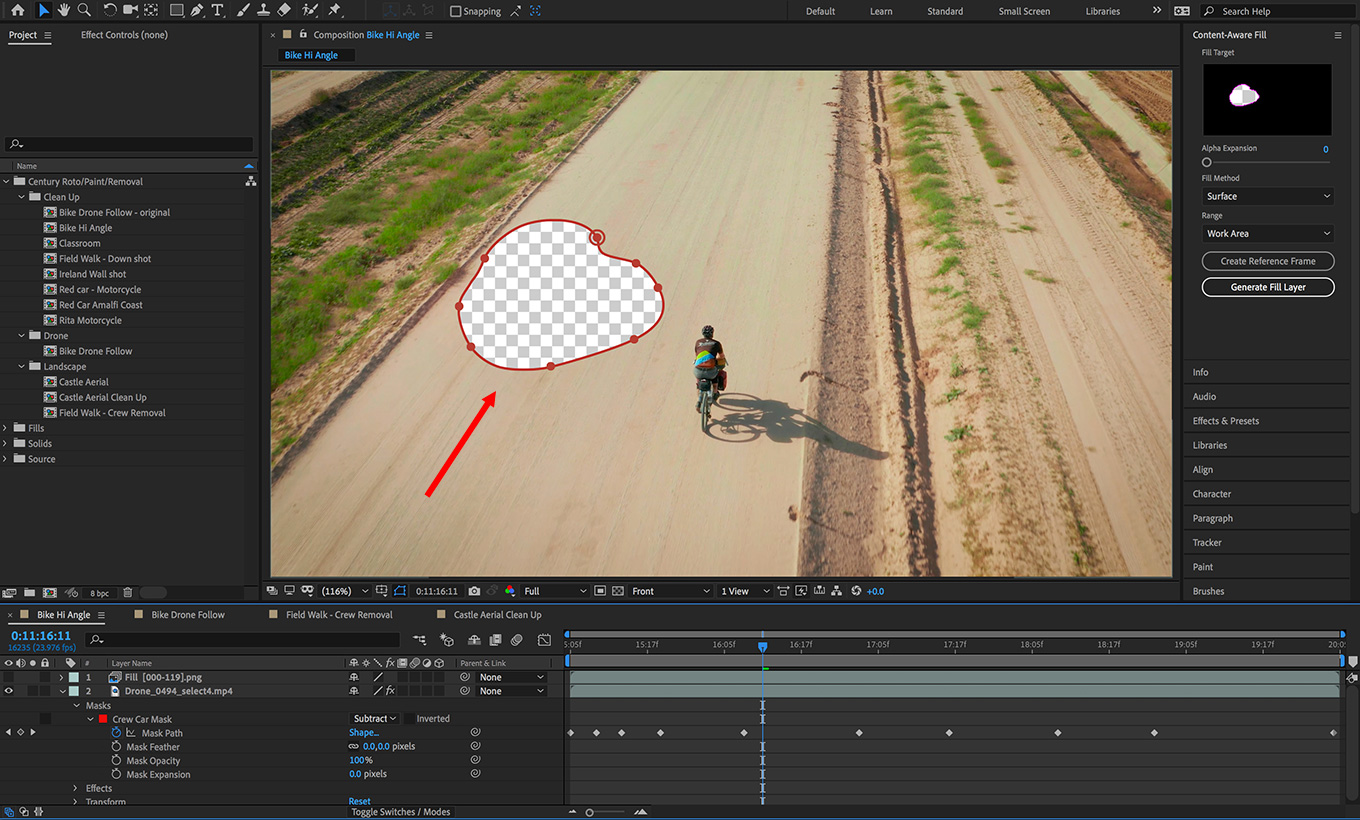 (Click to view larger image.)
Powered by Adobe Sensei, Content-Aware Fill replaces masked objects, shadows, or blemishes with backgrounds generated from adjacent pixels and other frames in the clip. Incorporating technologies such as optical flow and 3D tracking, Content-Aware Fill estimates motion and depth of the masked object to intelligently assemble a replacement background. For complex shots, you can refine your results with reference frames edited in Photoshop.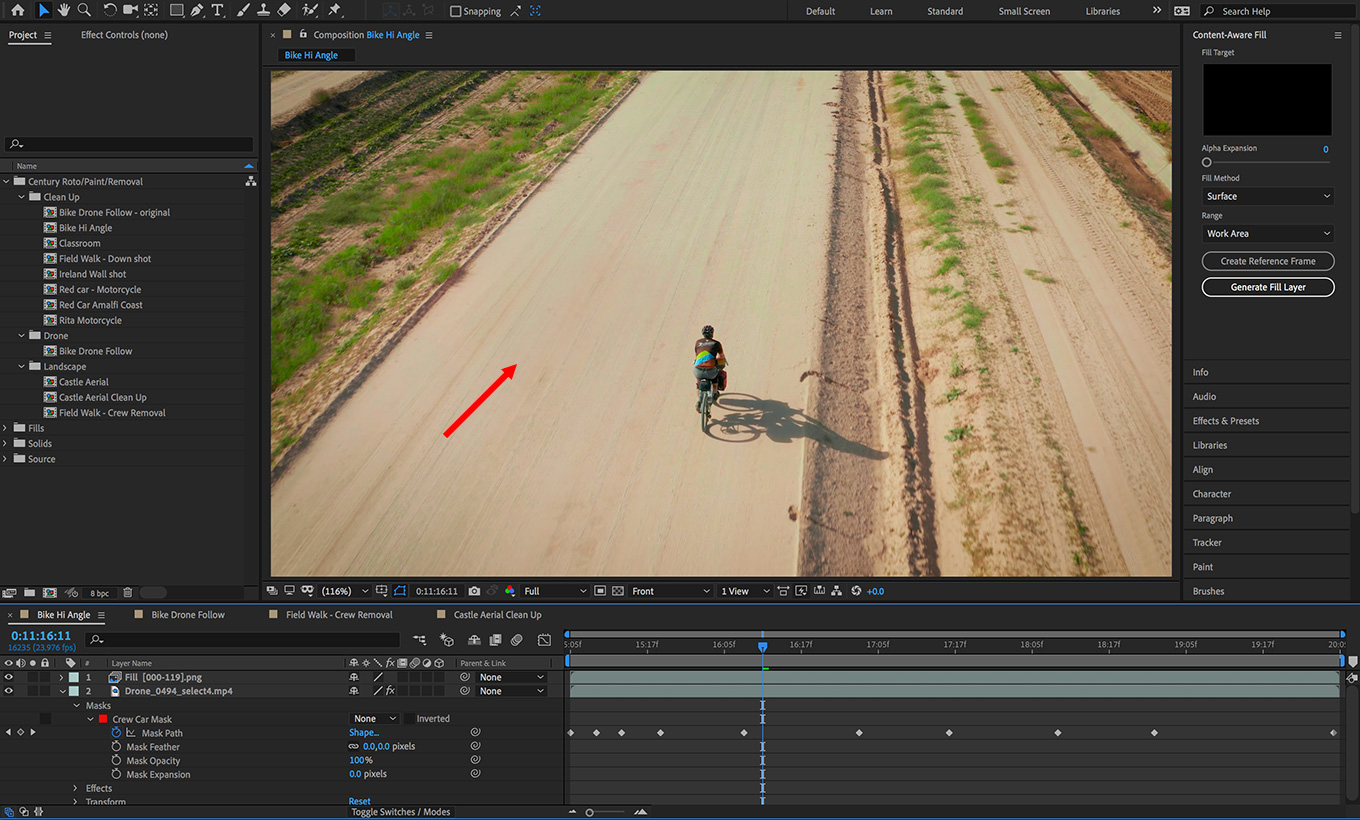 (Click to view larger image.)
For 360 VR projects, Content-Aware Fill is an indispensable tool since there is nowhere "off-camera" to hide crew, tripods or lights. Content-Aware Fill can also be used to salvage footage by eliminating visual distractions or fixing continuity issues, like a car driving through the background of a scene, dust on a camera lens, or a misplaced prop.
Larry also looks at the updates for Adobe Audition's new audio ducking feature, punch and roll recording, and new features going to Adobe Character Animator, including a new TWITCH extension which brings your animated character to life live.
Read the rest of the article at LarryJordan.com.