by Larry Jordan
Last week, Adobe released a major update to Adobe Premiere Pro CC, along with the rest of its Creative Cloud applications.
NOTE: Here's an article that details what's new in Adobe Auditionwith this release.
Here's a quick bullet list of the highlights:
New Home screen
Improved color grading
Edit Premiere Rush files in Premiere Pro
Intelligent Audio Cleanup
Edit and transform vector graphics
Fine-tune Motion Graphics templates
Improved Adobe Stock search for Motion Graphic templates
VR 360 and 180 Enhancements
Improved Team Projects
Plus a whole lot of other small-but-important stuff
Let's take a look at these in more detail.
NEW HOME SCREEN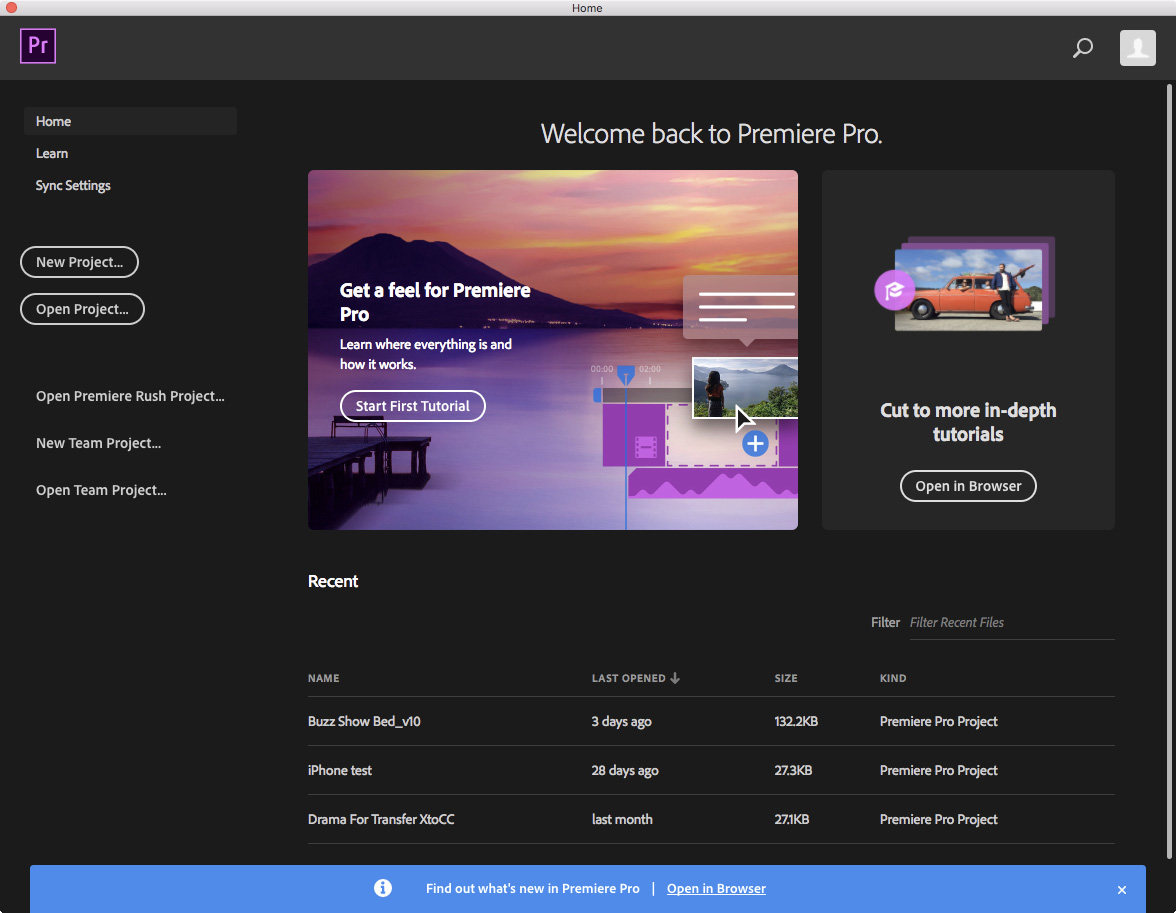 (Click to view a larger image.)
This isn't Premiere's most important feature, but it's the first thing you see when you start the newest version of the application: a new Home Screen.
This now includes options to:
Access and watch tutorials that explain how to use the program
Create a new project
Open an existing project
The nice thing is that this window is dynamic. As you work on more projects, the space devoted to tutorials decreases, while the room for your past projects expands.
NOTE: You can also access tutorials from the Learn panel. If this is not visible on your screen, open it by choosing Windows > Learn.
IMPROVED COLOR GRADING
The color changes are extensive and fall into three categories:
Color management for your computer display
Selective color grading
Create and edit multiple Lumetri color effects
DISPLAY COLOR MANAGEMENT
In the past, it was necessary to manually set your OS display profile to be sure that you were seeing accurate colors, and sometimes it was not possible. Display color management takes away the guesswork and displays correct colors no matter what ICC profile your display is set to in the operating system. (Source: Adobe Help)

To display accurate colors on any system, go to: Premiere > Preferences > General and check Display Color Management. This automatically converts colors to the color space of your display (including Rec. 709, Rec. 2020, and P3).
NOTE: This requires GPU acceleration and will probably work best with recent hardware.
SELECTIVE COLOR GRADING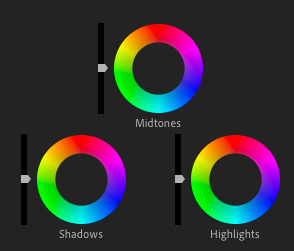 We are all familiar with the color wheel: Adobe calls these "donuts." While the basic Lumetri color controls haven't changed, in this release, Premiere beefed up its selective color controls.

What's new is that Adobe has added five new color controls to Curves allowing us to make "selective" color changes. That is, where we want to change a portion of the frame, without changing everything. (These are often called "secondary color corrections.")
Hue vs. Saturation. Changes the saturation of a specific range of colors.
Hue vs. Hue. Changes the color of a specific range of colors.
Hue vs. Luma. Changes the gray-scale value of a specific range of colors.
Luma vs. Saturation. Changes the saturation of a specific range of gray-scale values.
Saturation vs. Saturation. Changes the saturation of a specific range of saturation.
Explaining how these tools work is an article in itself. However, here's an example.

Let's say that I want to make the green jacket of the person walking through the frame, indicated by the red arrow, darker, without changing the rest of the image. Here's how:
Change the workspace to Color
Twirl down Curves
Click the eye dropper tool in Hue vs. Luma on the color you want to modify
Drag the middle keyframe up or down to make a change.
To increase the range, drag one of the two bounding dots wider, or closer to reduce the range
To change the color range, drag the slider under the curve.
The creative possibilities for these tools are vast. These enhanced secondary color correction tools are a very valuable addition to Premiere.
CREATE A STACK OF MULTIPLE LUMETRI EFFECTS
We can now create a stack of multiple custom Lumetri color effects and apply them to the same clip (or adjustment layer).

For example, I selected a clip and applied a color effect. Using the menu at the top of the top of the Lumetri color panel…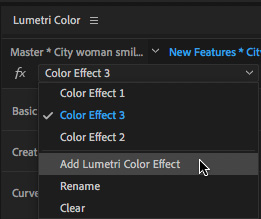 I added a second, and third, color effect by choosing Add Lumetri Color Effect, then used the Rename option to give them a more coherent name.
NOTE: In real-life, I might call these, for example, "Desaturate highlights," "Boost skin tones," and, perhaps, "Cool shadows."
This technique allows me to create a color effect by stacking different effects, which provides more flexibility than trying to cram all the settings into a single effect.
I expect this feature to expand in future versions to allow me to change the stacking order of effects and save these building blocks so that I can create them once, then reuse them for other clips in my project.
Read the rest, including a look at Editing Premiere Rush files, Improved Team Projects, VR enhancements, and a bunch of "other important stuff" at LarryJordan.com.