by Larry Jordan
You've seen these options at the bottom of dialogs when you create or change sequence settings or export media. But, what do they mean? (And, in researching this, I found the answers surprisingly hard to find; in fact, Premiere's Help files don't include two of these.)
SEQUENCE SETTINGS

Maximum Bit Depth
If you shoot and edit 8-bit video – AVCHD, H.264, DV – leave this unchecked (off).
If you shoot 10-bit, or greater, video, turn this on (checked).
According to the Adobe Help files:
This "maximizes the color bit depth, up to 32 bits-per-channel (bpc), to include in video played back in sequences…. If your project contains high-bit-depth assets generated by programs such as Adobe Photoshop, or by high-definition camcorders, select Maximum Bit Depth. Premiere Pro then uses of all the color information in those assets when processing effects or generating preview files."
Maximum Render Quality
If the images you are editing are the same size as the images you shot, turn this off. Or, if you are editing highly-compressed codecs, such as AVCHD or H.264, turn this off.
If you shoot images at one size, say 4K, but edit at another, say, HD, turn this on.
Again, from Adobe's Help files:
This "maintains sharp detail when scaling from large formats to smaller formats, or from high-definition to standard-definition formats. Maximum Render Quality maximizes the quality of motion in rendered clips and sequences. Selecting this option often renders moving assets more sharply.
At maximum quality, rendering takes more time, and uses more RAM than at the default normal quality. Select this option only on systems with sufficient RAM. The Maximum Render Quality option is not recommended for systems with the minimum required RAM.
Maximum Render Quality often makes highly compressed image formats, or those containing compression artifacts, look worse because of sharpening."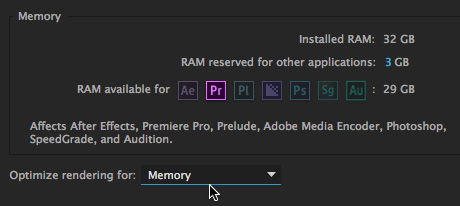 If you use Maximum Render Quality, you'll need at least 16 GB of RAM. Then, in Preferences > Memory, dedicate all but 3 GB to Adobe applications and set Optimize Rendering for to Memory.
Composite in Linear Color
Adobe's help files don't cover this, at all. So, I found the answer on Creative Cow, written by Walter Soyka:
"Checking this box changes the mathematics used when blending images. It's very common to [use] linear light in dedicated compositing workflows. Linear light will give you a very different look, usually with more natural-looking blends, but please note that some people find cross-dissolves in linear to be objectionably abrupt.
"See here for some background on linear light from Chris and Trish Meyers. Also, here's my blog with more explanation and Premiere presets.
"Specifically to Premiere Pro: when using the GPU, Premiere always blends in linear light. You can use this checkbox to ensure that CPU-based renders will match GPU-based renders."
EXPORT SETTINGS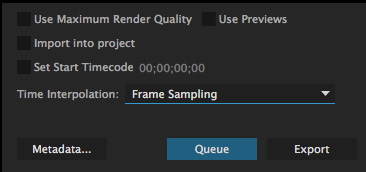 You've seen these choices at the bottom of the screen every time you go to export a file from Adobe Premiere Pro. If you are like most editors, you check them, or don't check them, and hope that you are making the right decision.
So, let me reduce some of this "stress of the unknown" and explain what these are and how to use them …
*****
In the rest of the article, you will learn about exporting with maximum render quality, Importing into a project, Metadata and time interpolation. Over at LarryJordan.com