by Larry Jordan 
I was watching some TV promos this morning where a camera was moving around a series of images displayed on a wall. And I said to myself, Motion can create that. Here's how to create the effect.
This tutorial takes about 30 minutes to complete.
NOTE: To better understand this tutorial, I included a movie at the end with the finished results.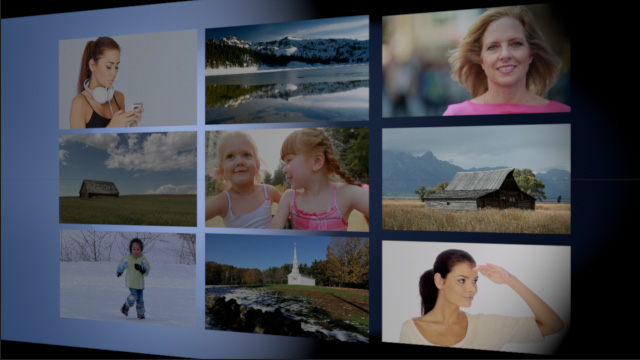 Here's where we are going. Moving video elements aligned to form a wall, with a distant background and a camera moving through space to ultimately zoom into a specific video image.
There are LOTS of ways you can customize this:
More or fewer video clips
More, different, fewer camera moves
Different backgrounds
Different lighting
Borders around the edges
You name it. Still, let me show you the basic setup, then you can tweak as you see fit.
NOTE: There are templates that make creating the wall faster and, if you only have one image, using a Replicator is faster. FCP X has something similar, but the images are only stills. It's nice to know how to do this yourself.
CREATE THE BACKGROUND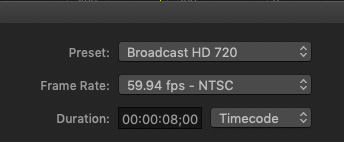 First, create a Motion project. Here are the specs I'm using. This effect doesn't need to be long, since this is a transitional element. In my case, I'm using eight seconds.

In the Layers panel, create two groups (folders). Type Shift + Cmd + N and name them:
Wall
Background (put this group at the bottom)
Naming is not required, but helps keep things organized. To rename a group, select it and press the Enter key. Press Enter, again, to accept the new name.
Select the Background group then, from Library > Content > Backgrounds select something that's solid and kinda dark. I used Medium Blue Mottle.
NOTE TO APPLE: It would be REALLY nice to have more dark backgrounds!!!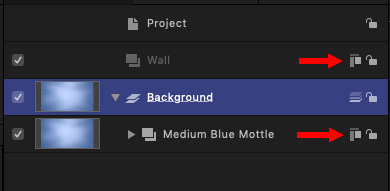 In the Layers panel, click these small icons on the right side of each element. When the three graphic icons are side-by-side, you are in 2D space. When they are stacked, you are in 3D space. We need every element to be in 3D space, so you'll need to change these groups as you create them.
NOTE: 2D or 3D applies to groups. Elements in a group inherit the group setting.
Finally, we need to add a light that will illuminate JUST the background. Why? Because it looks cool and allows us to play with lights.
Go to the Object menu at the top and choose Object > New Light.

Rename the light "Background Light," and notice that new controls appeared in the top left corner of the Viewer.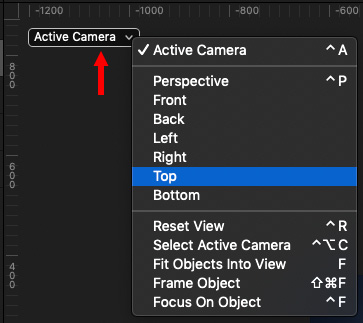 Click Active Camera and change the view to Top. (We'll switch between these two views a lot.)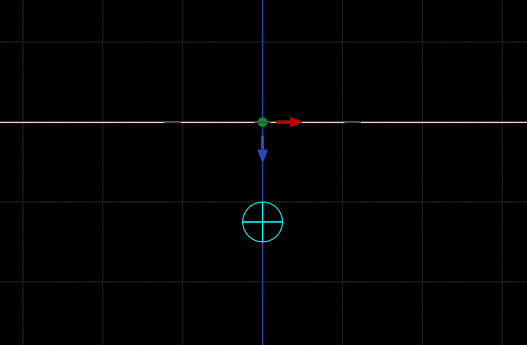 This gives us a view from the top down – like an architectural drawing – of the environment – called a "set" – that we are creating. Here, you see:
A grid we can use to position stuff
A cyan circle, that's the light
Red and blue arrows, that's the Background folder when it is selected
NOTE: The easiest way to move things is to select and drag them in the Viewer, but the easiest way for me to give you directions is using the Inspector. Once you see how this works, feel free to grab and drag stuff.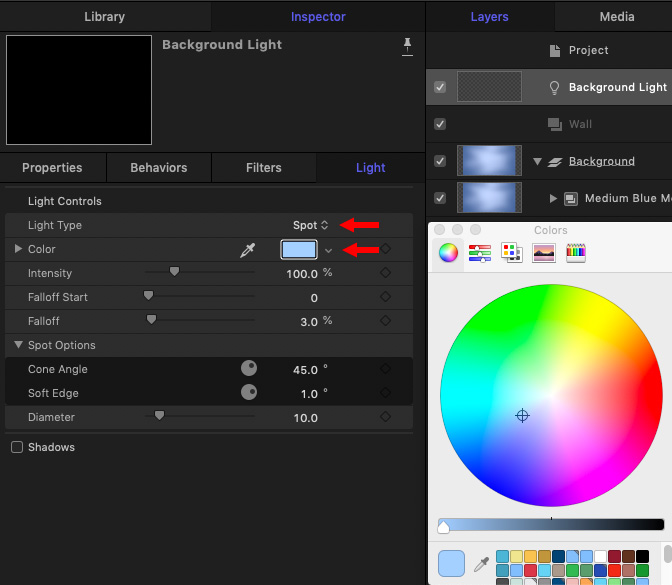 In the Layers panel, select the light. Then, in Inspector > Light, change the Type to Spot and the color to light blue. (This color, too, is your choice.)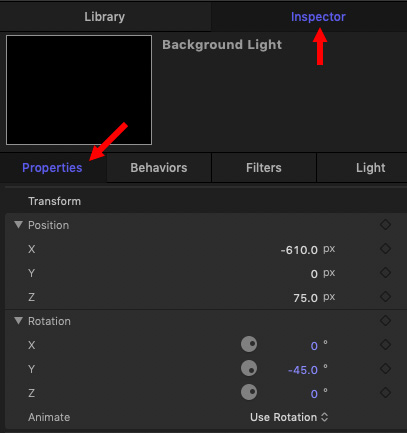 With the light still selected, go to Inspector > Properties and set the values for Position and Rotation that you see here.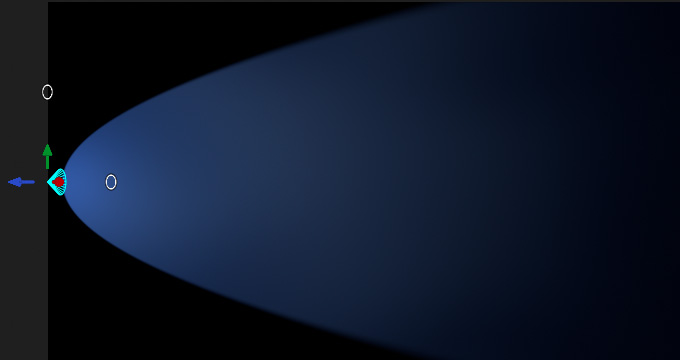 This gives you a nice spotlight effect on the animated background.
We are now done with the background. However, if you want to get fancy, you can animate the movement of the light or use keyframes to change color or other light settings. We won't get fancy here, or this article will become a book. But, definitely, feel free to play with different settings and see what happens.
Read how to take the next step and create the video wall, and animate the camera to zoom around, over at larryjordan.com.